Dr. Bri Stoterau's Primary Goal is to Assist Each Patient in Achieving & Maintaining Excellent Dental Health And A Great Smile. She Pride's Herself in Giving You Personalized Attention & Offering Dental Services Using The Latest Dental Technology.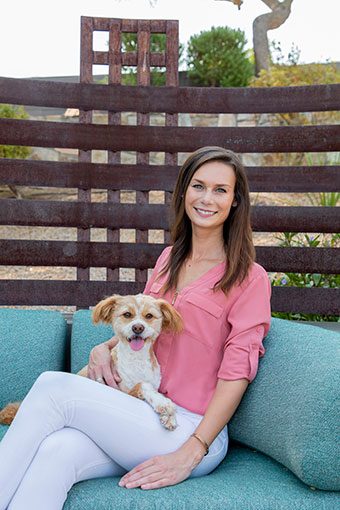 When it comes to her clinical beliefs Dr. Stoterau aims to ensure patients know what their treatments needs are, that they understand all of the options, and helps the patient to make the best decision for their oral health. Dr. Stoterau received her undergrad at the University of Iowa majoring in Psychology and graduated from Midwestern University College of Dental Medicine in Glendale Arizona.
On top of that Dr. Bri says "My top priority for my patient is to have the best experience possible; I love working with people who have anxiety about the dentist and changing their perspective to something great."
Q: At what age did you realize you would become a dentist?
Dr. Bri: At 10 years old, I was pogo sticking with my best friend on my driveway – crash. Faceplant. Before I could figure out what had happened, I was being rushed to the dentist. I had broken my 2 front adult teeth in half, resulting in root canals and bonding treatment. Crazy part is we actually found the halves of my teeth on the ground and the dentist was able to glue them back together! I thought it was super cool how they were able to put my front teeth back together and knew from that day on I wanted to help people smile again like my dentist did with me! 
Q: What is the most unique thing about your office? 
Dr. Bri: We have an office therapy dog, Stella! She is a five year old poodle mix rescue. Stella helps calm down patients with dental anxiety and is the office greeter! She is the sweetest pup and always makes sure everyone is feeling comfortable – she takes the fear out of going to the dentist. Of course, if dogs aren't your thing, we can handle that too.
Q: How long have you been in practice and what is your treatment approach?
Dr. Bri: I started out as a dental assistant back in 2009. I had worked as a general assistant and a surgical clinical assistant in two different offices before going to dental school at Midwestern University in Glendale, AZ. After graduation, I was lucky enough to be an associate at two different offices in Mesa. I learned so much from my mentors while there. I had the opportunity to open my own practice, S&C Dental, in October 2020 and decided to take the chance to be not only a dentist, but a business owner!
My treatment approach is conservative and gentle but thorough; I try to tailor each appointment to my patients' personal needs by listening to their concerns. I wanted to make my office unique – to feel as though you were walking into a spa. We also have an office therapy dog, Stella, who eases patients' anxiety. I enjoy changing my patients' perspective on dentistry and creating a relaxed environment that my patients can feel comfortable coming into.

Q: What kind of problems develop with bad Oral health? 
Dr. Bri: Poor oral hygiene can lead to the obvious cavities and gum disease. However, it is also linked to heart disease, cancer, and diabetes. Some dental conditions can only be found by a routine dental exam – there is usually no pain associated with gum disease or oral cancer. Therefore, it is so important to see your dentist as they recommend, but at minimum once a year.
Q: How do you work with patients to prevent oral and dental diseases?
Dr. Bri: Aside from better brushing and flossing habits, we dive into their lifestyle – what type of diet they have, medications, vitamins, gastric issues, ect. These can all play a role in the amount and acidity of your saliva... which can lead to greater oral health issues. The patient and I discuss the best routine for them and how we can help fit it into their daily activities.
Q: If there is only one thing we could work into our daily lives, what would you suggest?
Dr. Bri: Aside from the obvious brushing, Flossing!! I know you hear it every time you go to the dentist; but it really is the biggest thing people don't do or do incorrectly! Flossing can not only help prevent cavities … it is also how your gums stay healthy!
Q: Do you have a success story of a patient you can share with us?
Dr. Bri: I ask every patient what would make your smile a 10? I had a gentleman that had only gone to the dentist when he was in pain due to bad previous experiences. Due to this, he had a broken-down smile which he had no confidence in; he did not want to smile, held his head down and gave hardly any eye contact -he was defeated. On top of this, he was not in a good financial situation due to recently losing his job from COVID and recently beginning cancer treatment. 
He had been to a few other dental offices around town who quoted him over what he could afford. He came to my office with a horrible toothache and confessed to me "all I want is the ability to smile again". I sat with him and talked about his goals and past experiences. Together, we worked out a treatment plan to not only rid him of his pain, but the ability to smile again. We spent several appointments together; each one he took the city bus and walked a mile to get here. He was so committed to fixing his smile. Finally, the day came for him to see himself in the mirror with his new smile for the first time – he completely lit up and smiled from ear to ear. He turned around, hugged me tightly and said, "thank you for making me feel whole again". 

Q: What's the greatest fear you've had to overcome to get where you are today?  
Dr. Bri: The fear of failure. If you are comfortable where you are because you are too afraid of the "what ifs" or failing, you will never be able to grow and find your true passion. The times that I was the most fearful, I looked back knowing that was the right decision to make and I was happy that I did not let fear prevent me from growing.
Q: Can you tell our audience one of your most memorable moments your career?
Dr. Bri: My first cosmetic smile make over. I was still in dental school and was privileged enough to work on a case where we completely changed our patient's life by giving him a new smile. The confidence he had after the work we did lit a passion in me to want to instill confidence in my patients smiles. 
Q: What are some of the challenges you feel women face today?
Dr. Bri: Sponsorship- those in power recognizing and giving true endorsements for woman in the workplace who are showing consistent hard work and determination. Women have a lot of mentors, but we also need those in power to sponsor, advocate, and endorse our skills when talking to others therefore helping advancement in career opportunities and professional development 
Q: What advice would you give to young women who want to succeed in the workplace?
Dr. Bri: Be the best you can be and always be open to constructive criticism. I am always asking my staff, business partners, patients, and colleagues what I can do to be better – I am always looking for feedback in how I can be better so I can continue to be the best version of me.
Five Things About DR. Bri Stoterau

1. What's your favorite quote or saying? 
"If you are the smartest person in the room, then you are in the wrong room" – Confucius
2. What's your favorite thing to do in your free time? 
I recently have taken up golf! 
3. Among your friends, what are you best known for?  
Reliability. If I say I am going to do something I will get it done.
4.Best and worst flavor ice cream? 
Best: Birthday cake remix from Cold Stone. Worst? Anything with cherry flavor
5. Would you rather cook or order in? 
I love to cook and try new things – but I hate doing the dishes! So, I usually prefer to go and try new restaurants.