Dr. Stacey Laskis is Committed to Creating a Comfortable & Efficient Dental Experience For Her Patients.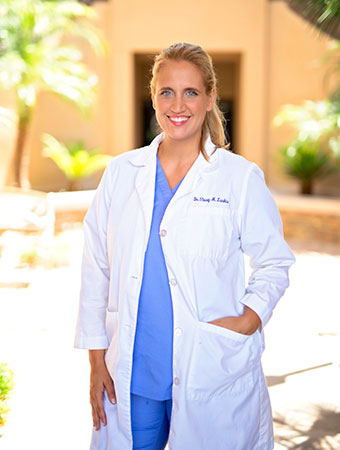 Dr. Laskis is originally from Ontario, Canada and studied neuroscience at Dalhousie University in Halifax, Nova Scotia, Canada. Being passionate about dentistry, however, meant getting the best education possible. That meant NYU's world renowned College of Dentistry. Dr. Laskis graduated from New York University College of Dentistry in 2006. At NYU, she also studied at the Larry Rosenthal Institute for Aesthetic Dentistry. It is the nation's first comprehensive program in an academic dental center to train dentists in the growing field of aesthetic dentistry.
Q: At what age did you realize you would become a dentist?
Dr. Stacey: When I was around eight, I would make my own braces out of rubber bands and paperclips. Surprisingly, it took well into my undergraduate degree to decide I wanted to pursue dentistry.
Q: How long have you been in practice and what is your treatment approach?
Dr. Stacey: I've been in practice for over 15 years. My approach is conservative. I don't see it as a one size fits all approach; the teeth are connected to a person and that matters.
Q: What kind of problems develop with bad Oral health? 
Dr Stacey: Oral health is linked to a myriad of general health conditions from pre-term low birth weight babies to Alzheimer's disease, diabetes, and heart conditions.
Q: How do you work with patients to prevent oral and dental diseases?
Dr. Stacey: I'm really fortunate that I have an amazing hygiene team that shares my philosophies and helps to educate patients to work with us on their health.
Q: Can you share with us your education and training you've had?
Dr. Stacey: I graduated from a top dental school (NYU), and I've been fortunate to work with incredible dentists, specialists, and lab techs throughout my career. This hands-on learning has been continuous.
Q: If there is only one thing we could work into our daily lives, what would you suggest?
Dr. Stacey: Prevention is key. Taking care of your oral health is much easier than facing decades of neglect, which is expensive, uncomfortable and takes time to remedy.
Q: Can you tell us how you manage your work life balance?
Dr. Stacey: It really takes a village to accomplish everything I would like too professionally and personally. I have an incredible team and support from my family. I have two children for whom I want to be a good example.
Q: What's the greatest fear you've had to overcome to get where you are today?  
Dr. Stacey: The dental profession has a lot of Continuing Education and conferences that historically are populated with older male dentists; They project a level of perfection that is illusory. The more experience I've obtained has made me realize I have a lot to add to the conversation.
Q: What's one lesson you've learned in your career that you can share with our audience?
Dr. Stacey: Don't get hung up on millimeters so you lose sight of patient care.
Q: Which woman inspires you and why? 
Dr. Stacey: My mom is a great inspiration. She instilled a strong worth ethic in me and a compassion for people.
Q: What are some of the challenges you feel women face today?
Dr. Stacey: Being heard and respected in the dental community. Although we are almost 50% of the graduating dental class, it's almost an expressed feeling that 'its ok just graduate and marry someone – you'll never really practice'. There are enough incredibly successful female practitioners and educators out there that it's safe to say we've proved them wrong.
Q: What advice would you give to young women who want to succeed in the workplace?
Dr. Stacey: Its cliché but be yourself and treat the patients the way you would want to be treated yourself. Recognize that there is a person there. I cry with my patients probably once a week. I share everything with them. It's an intimate profession – you need to be able to let people in.
Thirteen Things About Dr. Stacey Laskis

1. What's your favorite family tradition? 
Travelling with my family to new places. I love to see the world through the eyes of my children.
2. What's your favorite thing to do in your free time? 
I love to travel.
3. What's the most amazing adventures have you've ever been on? 
Dental school.
4. Among your friends, what are you best known for? 
I like to think I'm a good listener.
5. What's your favorite international food? 
Italian (I'm not an adventurous eater)
6. What's your favorite app on your phone?
The white noise app (Trust me)
7. Favorite City?
NYC!
8. Tell me about the best vacation you've ever taken.  
Greece. Taking the kids to the Greek islands.
9. What's your signature drink? 
The VIP
10. What is your favorite game or sport to watch and play? 
Hockey. GO Leaf's GO!
11. What were you like in high school?
Sporty. 
12. Would you rather cook or order in?
I don't cook so …
13. Cake or pie? 
Cake for sure. Pie is gross.